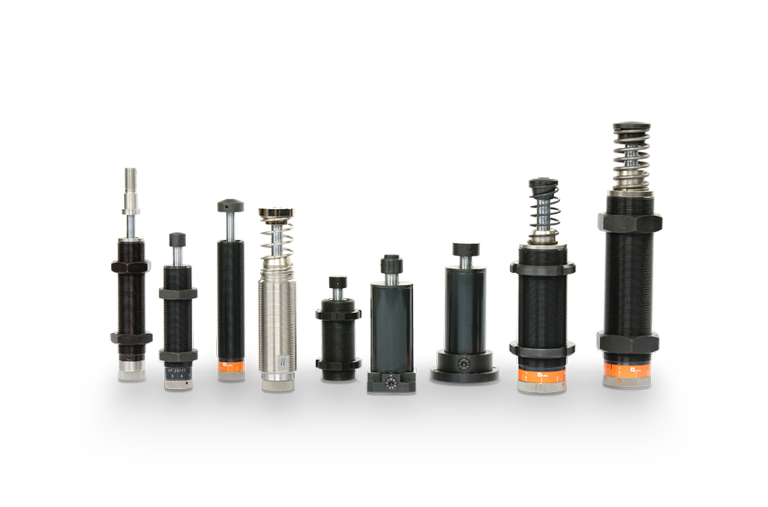 Product introduction
DLD Series
CJAC designed a specific shock absorber for the circuit breaker. The circuit breaker is with several tolerances within inches, and each breaker is made with tolerances so that the impact forces and impact speed are with a certain degree of tolerances. If the precision demand for shock absorber is with higher standard, users may use adjustable shock absorber to modify the damping force, rendering the optimal damping effect based on different impacting functionalities. Compared with DLC Series, the DLD Series is designed with higher absorbing capability and the maximum applications.
Material

Outer pipe:AISI1215 and STKM11A oxidized black, and the nickel plating treatment enhances rust resistance
Piston rod:hard chromium plating treatment and special seals for longer lifespan
Piston:We adopt materials with excellent wear resistance to ensure long-lasting and stable cushioning effect

Speed range

0.5~5.0m/s

Temperature range

-20~+85°C (Can be customized to range from -40 to +85°C)

Installation

CJAC offers you a variety of mounting options such as nuts (NUT) and flanges (F). CJAC can also customize solutions according to your demands

If you have custom demands

CJAC is able to customize solutions based on your requirements.
Model
DLD2517
ET600C
DLD2725-SHSY-500
DLD3010
DLD3326-PG
Stroke

(mm)

17
25
25
10
26
Maximum absorbed energy

(Nm(Et))

55
84
92
65
195
Absorbed energy per hour

(Nm(Etc))

37,200
75,600
58,500
54,000
75,700
Maximum effective weight

(Kg(Me))

300
240
420
143
1,400
Highest impact speed

(m/s(v))

1.5
4.0
4.5
3.0
3.3
Working temperature
-20~+85°C
-20~+85°C
-20~+85°C
-20~+85°C
-20~+85°C
Weight

(g)

337
960
640
640
482
Corresponding illustration
1
2
3
4
5
Model
DLD3608
DLD3610
DLD4222-SHSY-500
DLD4225-PG
Stroke

(mm)

8
10
22
25
Maximum absorbed energy

(Nm(Et))

75
78
228
260
Absorbed energy per hour

(Nm(Etc))

99,000
70,200
410,400
125,000
Maximum effective weight

(Kg(Me))

306
240
420
3,000
Highest impact speed

(m/s(v))

4.0
4.0
13
3.5
Working temperature
-20~+85°C
-20~+85°C
-20~+85°C
-20~+85°C
Weight

(g)

620
940
620
1,280
Corresponding illustration
1
2
3
4