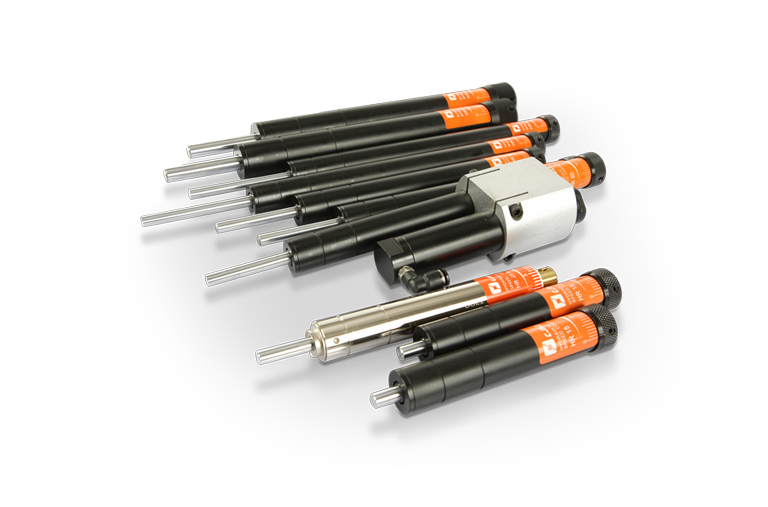 Product introduction
HR-L Series
The HR hydraulic speed controller can continuously and steadily control the moving speed of an object for a long time. The design of the product is carried out in a spring and pneumatic movement. In order to be appropriate for the use in various environments, an external dust cover is also designed to ensure the service life and stability of the product in addition to dust-proof devices inside the product. The HR series also uses special hydraulic oil so that it does not cause a rise in the propulsion speed due to the warming of the moving load. The product is small in size and easy to install, and has 30 sets of options to allow the user to adjust the speed of the controlled object.
Material

Outer pipe:AISI1215 and STKM11A oxidized black, and the nickel plating treatment enhances rust resistance
Piston rod:hard chromium plating treatment and special seals for longer lifespan
Piston:We adopt materials with excellent wear resistance to ensure long-lasting and stable cushioning

Temperature range

0~60°C

If you have custom demands

CJAC is able to customize solutions based on your requirements.
Model
HR15-L
HR30-L
Stroke

(mm)

15
30
A

(mm)

152
203
B

(mm)

137
173
C

(mm)

24
24
D

(mm)

8
8
E

(mm)

27.3
27.3
F

(mm)

21
21
G

(mm)

24
24
Temperature used

(°C)

0~60°C
0~60°C
Maximum loading

(Kgf)

15-350
15-350
Weight

(g)

470
495
Corresponding illustration
1
1